Another year has gone by, and with that comes another year of The Cooler Lumpur Festival. To be brutally honest, I'm not one to go for events like these – especially ones that fall on weekends. Cause you know, I would rather stay in bed and watch Netflix. But somehow, by the power of all things holy, I managed to drag my sorry ass out the door and attend The Cooler Lumpur Festival last Sunday.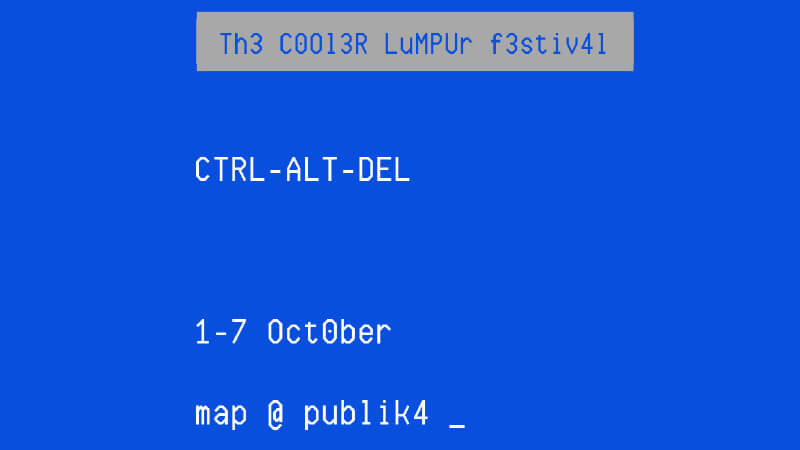 For those not in the know, The Cooler Lumpur Festival is a multidisciplinary festival curated by PopDigital that looks at different social, political, technological, and cultural ideas. Themed CTRL-ALT-DEL for its sixth installment this year, the event centred around rebooting the world through its lineup of thought-provoking panel discussions, workshops, and screenings.
Sounded pretty neat, especially with this year's reset-the-whole-operating-system theme. But how did it fare?
I managed to go for three panels that day, and here's what I have to say.
The Internet isn't just about moth memes and Najib-Rosmah jokes. Comic artist Ernest Ng, Mgag country manager Lau Mun Yee, stand-up comedian Dr Jason Leong, and digital ethics professor Dr Matteo Riatti discussed how comedy-centric digital content can be more than laughed at and forgotten; it can serve as a platform to speak about taboo topics, in a lighthearted way.
My thoughts: It's true – royalty, race, and religion are difficult topics to talk about. But they are topics that all Malaysians can relate to. Add some humour and you've got people who will either laugh their asses off or be offended as if their mother's involved. As content creators, there's no way to please everybody and that's the beauty of it. Like Mun Yee said, there should always be a "healthy dissonance" between the content creator and reader. Because, "if there are people who disagree with your content, that means you are already doing something right to engage them." And I wholeheartedly agree.
Life Doesn't Come With Trigger Warnings, Should Books?
Should books that address issues like racism, suicide, violence, rape, and murder come with a note of caution? Award-winning fantasy novelist Laura Lam and Malaysian author Hanna Alkaf shared their thoughts on trigger warnings and safe spaces, as well as their experiences in writing and reading books that contain these difficult themes.
My thoughts: I remember reading a book and, without warning, a rape scene began to play out. My only reaction was disgust, because I've never experienced sexual assault myself (touch wood, touch wood, touch wood). But for others who have, reading such a scene could trigger a re-traumatising episode and affect their emotional well-being. I personally feel traumatic scenes like these are placed in literature because, unfortunately, they happen in real life and are real experiences that real people go through. Listening to Laura and Hanna speak of their views opened my eyes to how complex trigger warnings are. Authors have the scary ability to take you to the darkest places but also have the power to protect you from your sensitivities. Trigger warnings shouldn't serve as censorship, but a little "content note" — as Laura and Hanna calls it — in the front pages would be nice.
Street Smarts: Rebooting Cities
Smart cities are all the rage when it comes to urban development, but how can Malaysia get there? In this panel, we got to hear the Ambassador of the Netherlands H. E. Karin Mössenlechner, Executive Director of Tropical Rainforest Conservation and Research Centre Dr. Dzaeman Dzulkifli, Head of Operations of Common Ground Ru Sow, and moderator Jia-Ping Lee of Think City speak about the green changes that can be made to our city and how to involve the community in its projects.
My thoughts: What I thought would be a discussion about smart technology, data, and the Internet of Things, turned out to be a 40-minute talk on bike lanes, plants, and co-working spaces. While it was a treat to hear them speak, the session relied way too heavily on the moderator's gentle nudges, and the speakers' conversation, or lack thereof, became insular. On one hand, we had H. E. Karin sharing about cycling infrastructure as a smart mobility solution and Dr. Dzaeman speaking about the need for urban biodiversity. On the other, Ru shared about Common Ground's services… and that's about it. Where was the discussion on technological advancement, privacy regulations, or connected communities? All in all, I expected more innovative solutions from this panel.
While I had mixed feelings about the event, I'm glad I got to catch The Cooler Lumpur Festival this year, albeit on the last day.
Did I have a good time? Yeah. Would I go for next year's? Maybe.
Disclaimer: The views expressed by the authors on this blog do not necessarily reflect the views of C27, our CEO, the management, the fish in our fish tank, and/or all the awesome people within the agency. The content and opinions shared are the personal views of the author so please don't sue us.
…or the author.